Translation proofreading means edit of a translated document by a professional editor or a highly qualified professional. This work involves spelling, punctuation and stylistic check, correction of misprints, literal errors or other inaccuracies as well as terminology verification and adjustment to align and harmonize the translated document, and so on.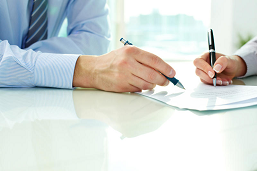 It is worth noting that it is not enough to just translate the text, it needs careful proofreading and correction. For this purpose, our translation bureau employs professional editors. They carefully verify the translated text, simultaneously consult with experts, who are familiar with a translation topic and possess professional knowledge and skills in this area.
Proofreading can be subdivided into two types:
1. Mandatory proofreading. This type of proofreading is provided in case of placing a translation order in our translation bureau. In this case, the proofreading cost is already covered by the translation cost.
2. Proofreading of texts translated by a third-party translation agency. In this case our bureau can proofread and verify your text as a separate service, if you have translated the text using your own sources or if the text is translated by other translator, but you are in doubt about its quality. In such cases, you can contact our translation bureau to check the translated text for accuracy and correctness. The proofreading cost in this case is estimated at 50% of the translation cost.