All written translations performed by Alliance Translation Services can be certified with the translation agency's stamp upon customer request when notary certification is impossible for whatever reason or not required. Certification by stamp of our translation agency is available for virtually any document, if a document subject to the certification is translated by our translators.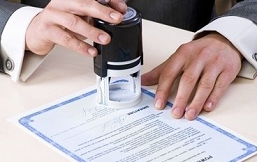 A procedure to certify translations with agency's stamp is as follows: the original document or its copy and its translation are bound, the last page bears stamp of our translation agency and indicates the number of pages bound and sealed.
Please, note that any translated document certified by our stamp is not legally binding. Therefore directly before ordering this service you should consult with the authorities, where you plan to file the document and its translation.
Alliance Translation Services provides the service of certification by stamp absolutely free of charge.